How to attach your smartphone to any Garmin Edge mount
There you are, riding full gas and stuck to the wheel in front of you during a hard Zwift group ride, when for the hundredth time you fiddle with your smartphone placement. Existing smartphone mounts have all been bulky, poorly placed, or redundant since you've already got a Garmin Edge mount attached to the handlebars. Why add another mount to the mix?
Well, here at KOM Cycling headquarters we're proud to say that we've finally, and definitively, solved that dilemma for cyclists with our Universal Phone Adapter. It's a first of its kind phone adapter that quickly and securely creates an attachment point between your smartphone and Garmin Edge mount, building an ultra-sleek phone mount (or as we prefer to call it, a "Garmin Phone Mount") that doesn't have any of the usual bulk.
Gone are the days of fiddling with your smartphone mid-interval – but the truly great thing here is that you get to utilize the low-profile mount you already have by adding our nifty (and ingenious) universal phone adapter to the mix.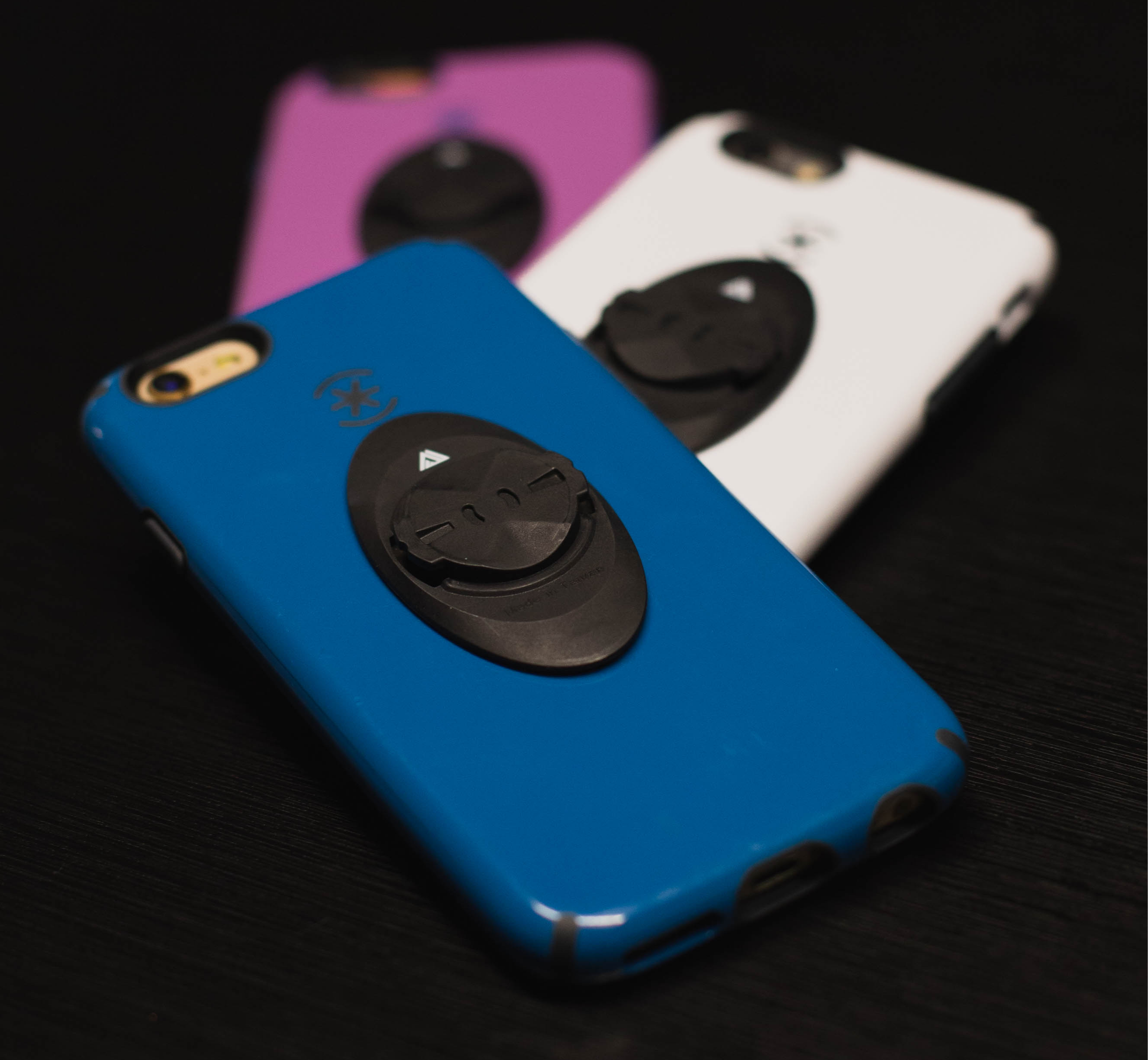 Engineered out of Pure Passion

The way it works is simple. Directly attach the Universal Phone Mount to your smartphone, then twist your phone onto your Garmin mount and voila!
As always, the KOM Cycling universal phone adapter was engineered out of pure passion for both elegant design and necessary utility for cyclists. The long spell of poorly made, bulky, and insecure phone mounts has been an Ice Age that our little adapter is single-handedly thawing. While the likes of TrainerRoad and others have made other attempts at an effective phone mount, they've been imperfect, too DIY, and lack the security most of us need before trusting our smartphones to the elements.
If you're wondering if we're implying that our Universal Phone Adapter is secure enough for riding outdoors with your smartphone in place – then the answer is a resounding YES. Despite having been designed as a Zwift phone mount to start with, the finished product is so bombproof that we've taken to riding all the live long day in the mountains with our phone firmly in place as though it were an oversized Garmin computer.
So, not only can you comfortably use and view your favorite smartphone training apps like Zwift and TrainerRoad, but you're also free to take your smartphone display out on the road without worrying about it falling to the wayside. If you're a numbers person, then you'll be happy to know that in testing from independent labs, an average pull force of 27.5 KGF was needed to remove the Universal Phone Adapter's adhesive from the unit.
And, to top it all off, it looks ever so pro, if we may say so ourselves.
Installing the universal phone adapter to your Garmin Edge mount to create a Garmin Phone Mount is simple and only takes a few items along with a handful of installation steps
---
1. KOM Cycling Universal Phone Adapter
2. Garmin Edge mount (any brand works)
3. Well-fitting phone case
4. Alcohol prep pad (included)
5. Abrasive pad (optional)
---
When you purchase a KOM Cycling Universal Phone Adapter, you'll receive both the adapter and an alcohol prep pad. Use this prep pad to clean the surface of your phone case as thoroughly as possible. It's also at this stage that you may wish to use an abrasive pad to lightly create an abrasion in the exact place you will adhere the mount to. Using an abrasive pad is, however, entirely optional, and should you choose to forego this step, it won't be to the detriment of the product's performance.
---
Remove the protective film strip from the adhesive side of the Universal Phone Adapter. Only do this when you have adequately cleaned your phone case's surface and are ready to join the adapter and phone together.
---
Line the adapter up so that it will adhere to the center of your phone case. Note: If using an aero mount you will want to place the adapter towards the bottom of the phone case to ensure that the case won't collide with the mount when turning in and out.
---
Press the adapter firmly to the center of your phone case. Allow 6– 10 hours for the adapter and phone case to adhere for maximum bonding. Because of the time needed for maximum bonding to take place, we suggest doing this process at the end of the day and leaving your case and adapter to adhere overnight.
---
That's all there is to it! When you wake up in the morning, you'll be ready to hit that first trainer session with a Garmin Edge phone mount. Zwift will never be the same again, so get out on the roads of Watopia and take aim at some fresh KOM's.
BEST INDOOR CYCLINGS APPS – ZWIFT VS. TRAINERROAD
---