Zwift Mountain Biking - In game steering
Zwift Mountain Bike Steering Course — Everything You Need to Know
About a month ago, Zwift announced the arrival of its long-awaited steering update for indoor MTBers. This new beta feature allows you to steer your digital avatar across an exciting single track route, opening a new dimension of indoor training to MTBers around the world. The action centers around Repack Ridge, Zwift's steering course which is modeled after an exhilarating and sinuous MTB single track.
Zwift's FutureWorks label is responsible for all of the behind the scenes work that went into the course. Repack Ridge may be ready to rock, but dropping in takes a little more care and dedication than the usual Zwift offerings.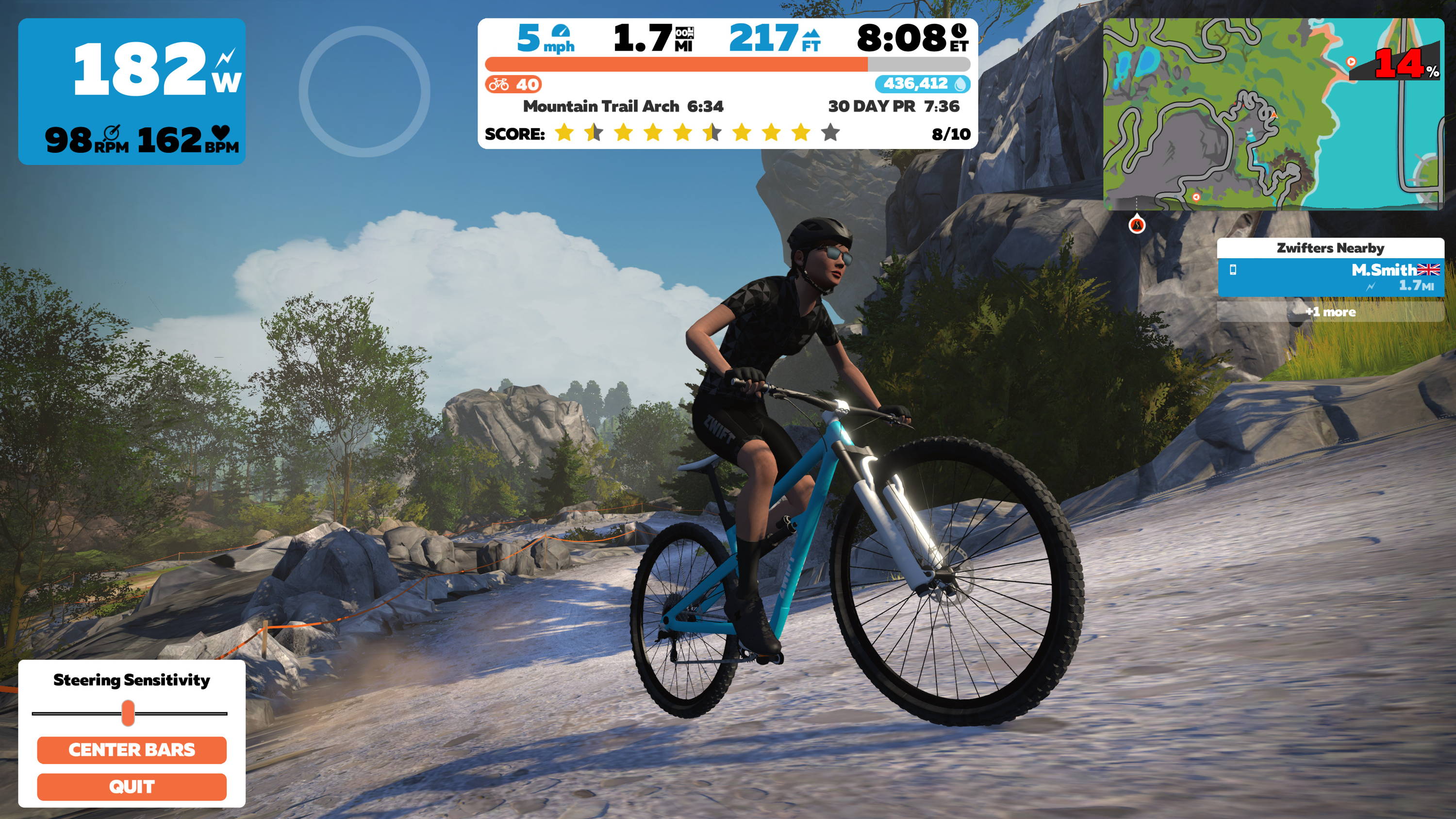 That's owing to the fact that we're basically going into uncharted territory here. Never before has the MTB experience been transitioned indoors in such detail, excitement, and realism. Nothing can ever replace the feeling of actually being on the trail with the wind and sun on your face as you shred a hairy route.
Having said that, we don't always have time to get gnarly. We've all got lives, responsibilities, and places to be. With Zwift's new MTB offering, there's finally a happy medium for keeping the thrill of downhilling alive when you're tight on time, or the weather isn't cooperating.

Gearing up for Repack Ridge

First, you'll need a compatible indoor trainer, either wheel-on or direct drive, that can support Zwift. Then, you'll want either a Windows/iOS computer, iOS tablet, AppleTV, and an Android/Apple phone. Finally, you'll need an active subscription to the Zwift app.
To provide steering feedback to the app, mount your phone onto your handlebars. A hassle- free way to do this is with our handy universal phone adapter. Just stick the phone adapter onto your phone case, then lock your phone straight to a Garmin edge mount as per usual.
You'll also need something to help pivot your front tire side-to-side. An unexpected outcome of turning the handlebars while mounted on a trainer is that the entire setup will start to walk forward. On top of that, with enough steering movement, your tire will begin to wear through the material it's on top of (which is bad news for your rug or carpet).
Since most trainers are not made with turning the front tire in mind, a quick fix is needed.
A nifty solution is to get a turntable or lazy Susan to place under your front tire. You can steer to your heart's content without damaging the floor with one in place. Amazon has a couple of inexpensive but sweet options that do the trick.
In terms of hardware, that's all you need to tackle the new steering feature. Just fire up Zwift on your computer, tablet, or AppleTV, then make sure the companion app is running on your handlebar-attached phone, too.
Once everything is up and running, make sure you're on the Watopia map. Select Dust In the Wind, Muir and the Mountain, or Quatch Quest. All three of these routes are close to Repack Ridge.
As you approach Repack Ridge, you'll be prompted to make a right turn to start the course. You'll only receive the prompt if you have the Zwift Companion app running and everything is working correctly. So, if you near the ridge and get no prompt, then you know you've got a problem.
Earn a Zwift Mountain Bike
Once at the ridge, you can test out the steering and make sensitivity adjustments using a slider to make it work perfectly for your setup.
Now that your settings are dialed in, you can wind through the thrilling 1.9-mile single track that includes over 300 feet of climbing. The course starts at an incline before kicking up slightly then tackles a grueling climb to the finish.
You'll be rewarded with a mountain bike that you can use anywhere in Zwift if you finish the course in under 12:30 with all ten stars, so ride hard.
The steering feature is still in beta testing, and plenty of bugs are being worked out. Expect exciting new routes and improved functionality as the company develops this innovative feature with rider feedback.
With Zwift's FutureWorks division spearheading imaginative features finally seeing integration to with platform, this is an exciting time to be a Zwifter. Top that off with the budding eSports scene starting to take root around the world, and it's starting to look like indoor riding has a sustainable — and fun — future.
At this critical point in beta development, FutureWorks is cycling through new ideas and needs feedback from everyone — including you. So load up Zwift and pedal on, the future of indoor training needs you.
---